Rose Dominic, the wife of the late policeman who died in the Balogun Market fire, says she is at a crossroads following the death of the family's breadwinner.
The mother of four was awaiting the arrival of her husband, Sergeant Michael Dominic, from work on Wednesday when she was jolted by a phone call announcing the death of the 44-year-old cop
Michael, attached to the Ebute-Ero Police Station, was on duty at the scene of the fire which gutted Brasas Fabrics in Balogun Market, Lagos Island.
It was learnt that the native of Ekwureku in the Abi Local Government Area of Cross River State was chasing people away from the disaster spot when a concrete which suddenly fell from the fire-ridden building crushed him to death.
He is survived by four children – Mary, 10; Emmanuel, eight; Samuel, five and two-year-old Nathaniel – and aged parents.
Our correspondent gathered that Dominic had returned to the station around 8pm on Tuesday from a duty when he was told that the market was on fire.
He reportedly rushed to join a team of policemen deployed in the scene and tragedy struck 30 minutes into his arrival. Goods, largely fabrics, worth millions of naira were trapped in the fire which raged for two days.
Amidst tears, the deceased's wife, Rose, told City Round that the family and her in-laws lived on Michael's salary, lamenting that his death spelled doom for the entire family.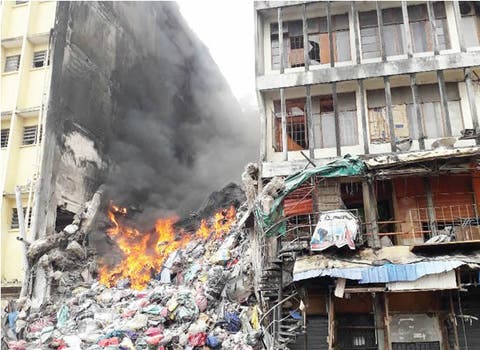 She stated, "We have been married for 11 years and we have four children together. The first child is about to start secondary school; the second is in primary three, the third one is in Nursery 2 while the last child is in crèche. What will I tell Samuel who really loves his father? He was the breadwinner of the family and he was the one taking care of his parents being the first child. Everybody depended on him. I don't know where to start from; I am confused.