Popular Islamic cleric, Sheikh Ahmad Gumi.has warned the Nigeria judicial system not to upturn the truth, adding  that any attempt or failure to uphold the real results of the Presidential Elections would "lead to a chaos no force can contain."
Gumi who made this clear via his social media handle on Thursday, said:"I sincerely hope that the courts of law this time will also prove its worth and uphold the truth."
"This is because if they don't, it may lead to a chaos no force can contain."  "The Court is the last hope that Nigerians can resort at this moment.
Speaking further, Sheikh Ahmad Gumi said, "The legitimacy of a government can only be acquired when the election process is credible and transparent.
"When such is not in place, the government will run as a political imposition by a few privileged cabals."
Again, Sheikh Ahmad Gumi said, "I implore the opposition parties to go to the Supreme Court to re-establish the supremacy of law and to teach our younger generation the value of resolving disputes through legal means rather than violence."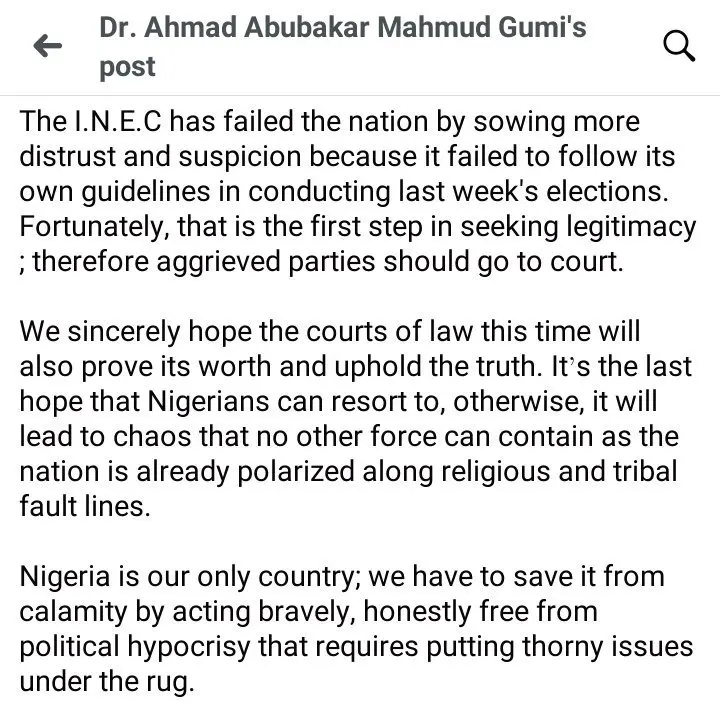 "I advise that people should let the entire litigation process run its course because it has a great deal of importance for our national health. I think the Independent National Electoral Commission (INEC) failed to follow its guidelines in conducting last week's election."
"If The Court Does Not Uphold Truth Regarding The Election, It May Lead To Anarchy No Power Can Contain, " Sheikh Ahmad Gumi said.