A gunman has reportedly opened fire, shooting an officer of the FRSC just to evade arrest in Ogun.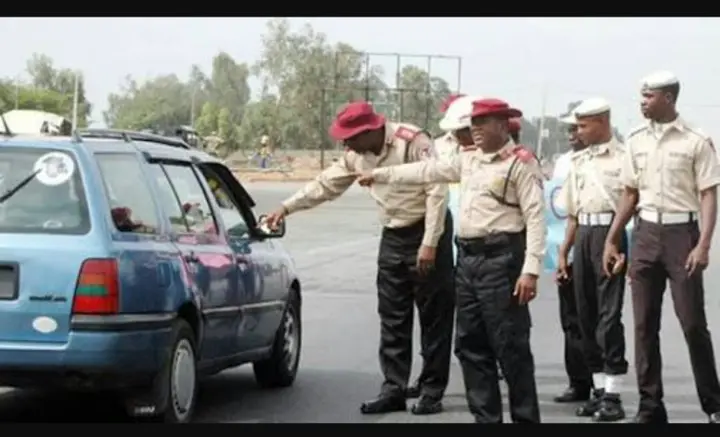 File photo: FRSC officials
According to a report by The Nation, an unidentified gunman has shot at the Operative of the Federal Road Safety Corps (FRSC) attached to the Ogun State Sector Command, wounding him severely on the leg before speeding away.
The incident happened on Sunday at the Ibafo corridor of the Lagos -Ibadan Expressway when the FRSC operatives were controlling traffic.
The Operatives had stopped his vehicle marked WED264YE for route violation and driving against traffic but the driver; an unidentified man who claimed to be a policeman pulled a pistol and shot at one of the legs of the arresting Marshal that stopped him and zoomed off.
The Sector Commander, FRSC, Ogun State Sector Command, Vincent Oladele said the Marshal is in a stable condition at the hospital while the incident has been reported to the Police.
According to Oladele in a release on Monday by the Route Commander and Public Education Officer, a manhunt has been mounted for the arrest of the fleeing gunman.
Meanwhile, an accident that occurred yesterday at the Abeokuta- Sagamu expressway around the Muhammadu Buhari Estate stretch of it has left two people with injuries.
The cause of the accident which involved a vehicle registration number BDJ865AA and another marked LSD419FM (SIENNA BUS) was attributed to "wrongful overtaking."