Nigerian activist, Charley Boy alias Areafather, took to Instagram to reveal how former President Olusegun Obasanjo allegedly barred 1.5 million Chadians from entering the country to vote in the upcoming 2023 presidential election.
The veteran musician has gone on to reveal another supposed Observing post, which reads, quote: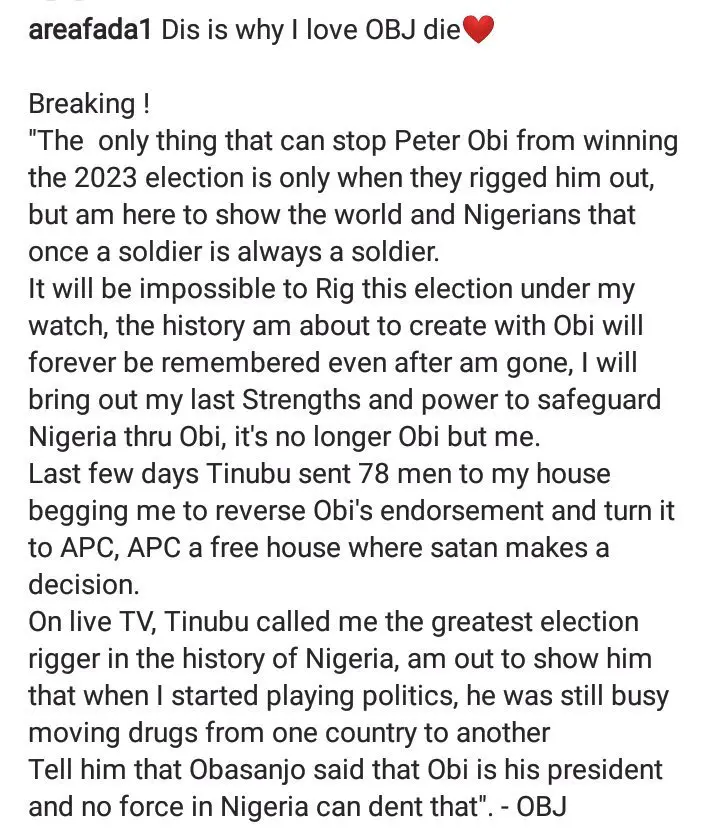 "The only thing that can stop Peter Obi from winning the 2023 election is only when they rigged him out, but am here to show the world and Nigerians that once a soldier is always a soldier. It will be impossible to Rig this election under my watch, the history am about to create with Obi will forever be remembered even after am gone, I will bring out my last Strengths and power to safeguard Nigeria thru Obi, it's no longer Obi but me.
"Last few days Tinubu sent 78 men to my house begging me to reverse Obi's endorsement and turn it to APC, APC a free house where satan makes a decision. On live TV, Tinubu called me the greatest election rigger in the history of Nigeria, am out to show him that when I started playing politics, he was still busy moving drugs from one country to another. Tell him that Obasanjo said that Obi is his president and no force in Nigeria can dent that".- OBJ"…