Punch Newspapers posted on their verified Facebook page that an unnamed HIV-positive woman had stated that she had combined her blood with the Zobo she used to infect victims.
(Photo used merely as an example.)
She said in the post that she lacked the funds for medical care, so she started adding her blood to the beverage to sell to as many people as possible after deciding that she could not pass away alone.
She reportedly made the admission when a show host urged viewers to call in and confess what they do in the marketplace for which they aren't proud and which no one knows about.
These were the seller's exact words: "When I visited the hospital six months ago, I was informed that I had HIV. I began adding my blood to the zobo I make to sell, and I sell it to plenty of customers."
"I use a syringe to draw out my blood, which I then combine with the zobo. I used to be a nurse, but I had to stop after getting the HIV diagnosis. Although I'm not satisfied with what I did, I am glad that I won't pass away by myself. I've been doing it for the past six months, and I ask God to pardon me." The post is below.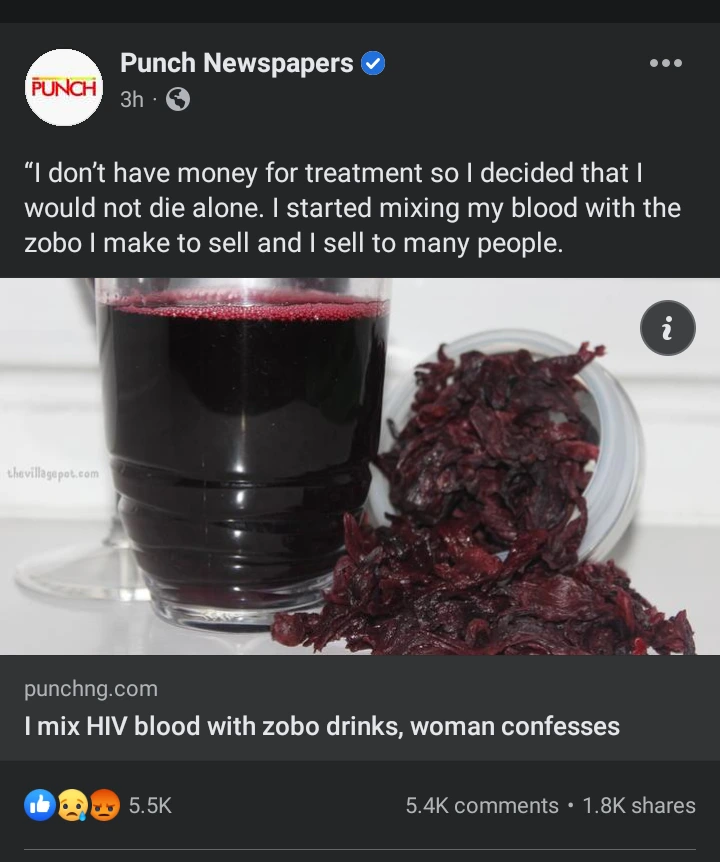 People responded to the message with varying degrees of emotion, and they voiced their opinions in the comments section. Added Ugwuanyi Chinonso Ali: "HIV cannot be transmitted through the digestive tract unless there is a mucosal breach. In addition, the virus has a difficult time surviving in the stomach's acidic environment." See additional remarks below.